At ActionCOACH Hastings we believe individuals and businesses are unique, everyone has the ability to achieve their aspirations – we provide the tools.
So What?
We are yet to come across a single business leader or owner, who does not struggle with Time, Team or Money issues in their personal or business lives… As our client, you'll benefit from 25 years of experience of mentoring business owners; that's 25 years of refining a powerful and proven business growth system that will help you make a lot more profit and get you back the time to enjoy the fruits of your success.
We provide coaching programmes that suit all business types and sizes including One-to-One coaching, group coaching and growth strategy workshops. Programmes can also be tailored to your personal or business needs. Being a client of ActionCOACH Hastings is like being part of a club – as well as coaching it provides opportunities to network and learn through other client's experiences.
Our Guarantee to you
At ActionCOACH Hastings, we believe a 'real business' is a commercial, profitable enterprise that can work without you, the owner, so you can live your life on your own terms.  We see the majority of business owners burning themselves out by working IN the business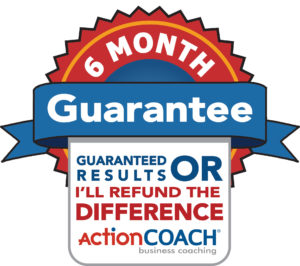 instead of ON the business.  There is clearly no overnight success formula here, but our experience proves when a business owner partners with our system and team, their sustained efforts in the right direction produce massive results for real businesses and real people… in fact, we're the only business growth company we know who will guarantee, our clients, a 6-month Return on Investment – feel free to ask me about Ts and Cs.
Click here to contact us now or book a complimentary initial discussion